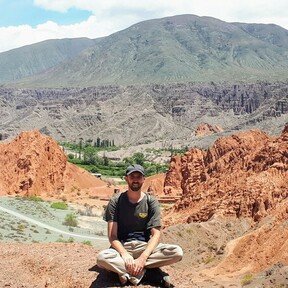 Since 2000 I have been away traveling somewhere for a total of 10 years. In the other 10 years at home I still got a university degree, got married and have a "regular" job.
I am not a professional traveler nor do I work in the industry, but it is still my passion and it consumes most of my free time. After graduating from university I spent a "gap" year traveling that accidentally turned into 7 years of epic overland travel across Asia, Europe, Africa and Australia on what can only be described as an extreme budget. Since returning home I have tried to find a more balanced approach to life with a more reasonable low budget and shorter time frames using the travel techniques and hacks I've picked up over the years. More recently I completed a year long honeymoon through Latin America and Antarctica.
I love off the beaten track destinations and countries, remote border crossings and unusual experiences. I love the entire process of movement and travel from the planning stages to the airports and bus stations and finally the destination.
I have extensive experience traveling solo, as a couple, with friends and as a family. Each provides different challenges and benefits.
My interests:
aviation, scuba diving, road trips, unesco world heritage sites, archaeology
For me, travel is:
a challenge to push past your personal limits
I have lived in:
Canada, USA, Australia, Philippines
I have been in:
Most countries on all continents. 160+ countries and not planning to stop yet
I currently live in:
Canada
My dream destination:
Madagascar
I want to learn about:
traveling with babies
3 extraordinary experiences in my life:
Diving the wrecks in Chuuk lagoon, visiting Antarctica, trekking to Everest Base Camp
3 items in my bucketlist:
to see the northern lights, visiting remote Papua New Guinea, see a puffin
Random fun fact about me:
I proposed and got married in 2 different natural UNESCO world heritage sites
My favourite country:
Japan and Iran are definitely at the top
Most interesting continent for me:
Asia
I cannot travel without :
my camera
What I like least about travel:
tourist-trap destinations
The best travel advice I received:
Travel for your own personal passion, not to impress anyone else
The worst travel advice I received:
It is too dangerous to go
My favourite food in my travels:
Japanese
If my travels become a movie, it would be:
action
Backpack or trolley suitcase?:
backpack
In plane, window or aisle seat?:
window
Travel in summer or winter? :
summer
10 cities or 3 cities to visit in 2 weeks?:
3
Plane, train, bus, boat, car, motorbike or bicycle?:
car
5 days without internet and phone or 5 days without shower? :
without internet and phone
No sex for 6 months or no travel for 6 months?:
no sex
1 year home quarantine without international travel restrictions afterwards or no quarantine and no international travel for the rest of your life?:
1 year quarantine
Weird local food in a local restaurant or well-known dish in a popular spot :
weird local food
20 million Euros / USD with lifetime international travel restrictions or 20 thousand with no travel restrictions? :
20 thousand
Martians visit your hometown. What would you do? :
Get travel advice for when I go to Mars ;)
No followed people