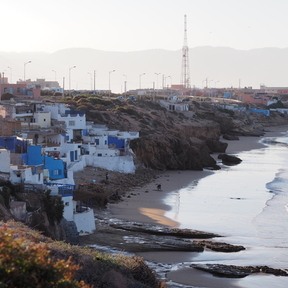 My interests:
HIking, Surfing, being a mum, traveling, talking too
For me, travel is:
I can't remember now... I need to raise a child for few months and it takes all my brain, but I will find words once you ask me
I have been in:
Burma, Brazil, Indonesia, Turkey, France, Spain, Malaysia,
I currently live in:
Morocco
My dream destination:
Nepal
I want to learn about:
everything I still don't know
3 extraordinary experiences in my life:
surfing with dauphins in Brazil
3 items in my bucketlist:
going on a backpacking trip with my daughter.....
Random fun fact about me:
I talk.... and you may want to stop me other wise I don't run out of words and ideas
My favourite country:
I haven't seen them all
Most interesting continent for me:
Asia
I cannot travel without :
passport I guess.... the rest is fine
What I like least about travel:
visas
The best travel advice I received:
Barka, you should travel
The worst travel advice I received:
you shouldn't travel alone
I miss … the most when I travel:
my cat....
If I could time travel and come back, I would go to … in year … to ...:
Nepal and stay maybe a month or any other country actually.... not picky! the experience itself is something
I would like to be … (animal) to travel better:
to travel better? I suppose a bird... I can't see how another animal can travel unless in a cage or with their master.... did I say master??!!
My favourite food in my travels:
sandwiches are my favorite because they are usually the same in most of the countries and you need them after a long road
If my travels become a movie, it would be:
action
Travel solo or with someone?:
solo
Backpack or trolley suitcase?:
backpack
In plane, window or aisle seat?:
window
Travel in summer or winter? :
winter
Mountain or beach?:
beach
10 cities or 3 cities to visit in 2 weeks?:
3
Plane, train, bus, boat, car, motorbike or bicycle?:
bicycle
5 days without internet and phone or 5 days without shower? :
without internet and phone
No sex for 6 months or no travel for 6 months?:
no sex
1 year home quarantine without international travel restrictions afterwards or no quarantine and no international travel for the rest of your life?:
no quarantine
Weird local food in a local restaurant or well-known dish in a popular spot :
well-known dish
20 million Euros / USD with lifetime international travel restrictions or 20 thousand with no travel restrictions? :
20 thousand
One way free travel to Mars. Would you go? :
No
Martians visit your hometown. What would you do? :
find a way to communicate?
Life on earth will finish in 6 months. Enjoy last moments locally with family and friends or travel the world one last time:
travel the world
My SuperPower:
tooooo much energy
No followed people