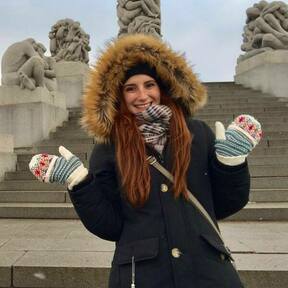 I have been living in Norway for over 8 years, so I know really well both the country and the culture. I love meeting new people, travelling, and helping out everyone I can, overall when it comes to talking about my favourite place on earth, Norway.
My interests:
Travelling, food culture, beer, books, music ...
For me, travel is:
The best possible way to widen your mind
I have lived in:
Spain, Norway
I have been in:
Sweden, Denmark, UK, Poland, Germany, Italy, Marocco, Iran, Dubai, Mexico, Switzerland, Greece ...
I currently live in:
Spain
My dream destination:
Papua New Guinea
3 extraordinary experiences in my life:
Camping in the wilderness off-season, Touring in Iran and Hiking in Switzerland
My favourite country:
Norway
Most interesting continent for me:
Antarctica
What I like least about travel:
Flight time
My favourite food in my travels:
Local food
If my travels become a movie, it would be:
comedy
Travel solo or with someone?:
with someone
Backpack or trolley suitcase?:
backpack
In plane, window or aisle seat?:
window
Travel in summer or winter? :
winter
Mountain or beach?:
mountain
10 cities or 3 cities to visit in 2 weeks?:
3
Plane, train, bus, boat, car, motorbike or bicycle?:
car
5 days without internet and phone or 5 days without shower? :
without shower
No sex for 6 months or no travel for 6 months?:
no sex
1 year home quarantine without international travel restrictions afterwards or no quarantine and no international travel for the rest of your life?:
1 year quarantine
Weird local food in a local restaurant or well-known dish in a popular spot :
weird local food
20 million Euros / USD with lifetime international travel restrictions or 20 thousand with no travel restrictions? :
20 thousand
One way free travel to Mars. Would you go? :
Yes
Life on earth will finish in 6 months. Enjoy last moments locally with family and friends or travel the world one last time:
enjoy locally
No followed people