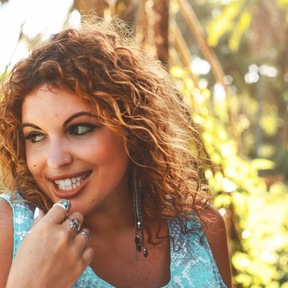 Hello, I am Emma and I have the soul of a gypsy. With a song on my lips, a heart full of joy on my sleeve and mischief on my mind I'm making my way across the globe. My life is the road and no matter how long it takes I'm going somewhere beautiful.
Been traveling the World solo for several years and been to over 60 countries where I try to spend a minimum of a month per country exploring.
My interests:
Travel, Music, People, Psychology, Tech and ScubaDiving
For me, travel is:
my life.
I have lived in:
Portugal, England, Indonesia
I have been in:
Portugal, Spain, France, Israel, Palestine, Turkey, England, Brasil, Slovenia, Italy, Germany, Holland, USA, Canada, Norway, Denmark, Sweden, Ireland, Switzerland, Slovakia, Austria, Thailand, Cambodia, Vietnam, Wales, Hungary, Scotland, Indonesia, Malta, Morocco, Angola, Egypt, Mozambique, South Africa, India, Malaysia, Singapore, Hong Kong, Macau, China, Laos, Myanmar, Japan, South Korea, Philippines, Taiwan, United Arab Emirates, Jordan, Iran, Oman, Sri Lanka, Timor Leste, Australia, New Zealand, Mexico, Romania, Kenya, Tanzania, Iceland, Nepal
I currently live in:
London
My dream destination:
So many still
I want to learn about:
Traveling with babies
3 extraordinary experiences in my life:
being a mum, travel the world by myself for years, move to different countries by myself
3 items in my bucketlist:
To swim at the Jellyfish lake in Papau; to visit my last 7 wonder: Machu Picchu in Peru; explore the Amazon
Random fun fact about me:
Hang with the Spice Girls
My favourite country:
Sooo many. But Cambodia, Iran and Japan are somewhere in the top 5
Most interesting continent for me:
Asia
I cannot travel without :
passport
What I like least about travel:
hummm carrying my backpack/luggage
The best travel advice I received:
"you can do it"
The worst travel advice I received:
"dont speak to strangers"
I miss … the most when I travel:
my vitamix? kidding, my family.
My favourite food in my travels:
anything japanese.
If my travels become a movie, it would be:
comedy
Travel solo or with someone?:
solo
Backpack or trolley suitcase?:
backpack
In plane, window or aisle seat?:
window
Travel in summer or winter? :
summer
Mountain or beach?:
beach
10 cities or 3 cities to visit in 2 weeks?:
3
Plane, train, bus, boat, car, motorbike or bicycle?:
plane
5 days without internet and phone or 5 days without shower? :
without internet and phone
No sex for 6 months or no travel for 6 months?:
no sex
1 year home quarantine without international travel restrictions afterwards or no quarantine and no international travel for the rest of your life?:
1 year quarantine
Weird local food in a local restaurant or well-known dish in a popular spot :
weird local food
20 million Euros / USD with lifetime international travel restrictions or 20 thousand with no travel restrictions? :
20 thousand
One way free travel to Mars. Would you go? :
Yes
Martians visit your hometown. What would you do? :
Welcome them and show them around hahaha
Life on earth will finish in 6 months. Enjoy last moments locally with family and friends or travel the world one last time:
enjoy locally
My SuperPower:
No one can stop me! I am unstoppable.
No followed people