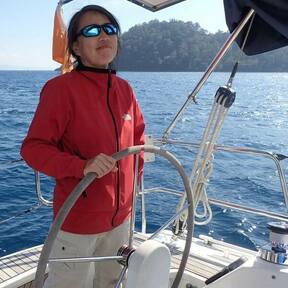 I am Japanese who is living in Turkey.
I speak Japanese, Turkish and English. I can advice you about the journey to Japan or Turkey.
My interests:
Journey, taking photographs, cooking, reading books etc.
For me, travel is:
to discover
I have been in:
United States of America, Singapur, Thai, Cambodia, Germany, Taiwan, Greece, Slovenia, Czech Republic, Austria etc.
I currently live in:
Turkey.
My dream destination:
Namibia, actually all African country if possible.t
I want to learn about:
Korean language.
3 extraordinary experiences in my life:
Journey for following Blues Music in the United States of America / Losting my way to home at night at Angkor Wat / Bicycle journey to Bozcaada from Ezine with my husband.
3 items in my bucketlist:
To watch stars at camping in Namibia / To speak fluently Korean / To complete one of pilgrims way by walking
Random fun fact about me:
I am not sure...
My favourite country:
Turkey!
Most interesting continent for me:
Africa
I cannot travel without :
passport of course :p / camera
What I like least about travel:
without plan.
The best travel advice I received:
Always get fun even in troubles.
The worst travel advice I received:
Nothing, every advice always effective in a way.
I miss … the most when I travel:
Nothing.
If I could time travel and come back, I would go to … in year … to ...:
I don't want to go to anywhere beyond time.
I would like to be … (animal) to travel better:
cat: not only for travel but for life.
My favourite food in my travels:
Foods deeply entrenched in the culture of where I go.
If my travels become a movie, it would be:
drama
In plane, window or aisle seat?:
aisle
Mountain or beach?:
mountain
10 cities or 3 cities to visit in 2 weeks?:
3
Plane, train, bus, boat, car, motorbike or bicycle?:
train
1 year home quarantine without international travel restrictions afterwards or no quarantine and no international travel for the rest of your life?:
1 year quarantine
Weird local food in a local restaurant or well-known dish in a popular spot :
weird local food
One way free travel to Mars. Would you go? :
No
Life on earth will finish in 6 months. Enjoy last moments locally with family and friends or travel the world one last time:
enjoy locally
No followed people