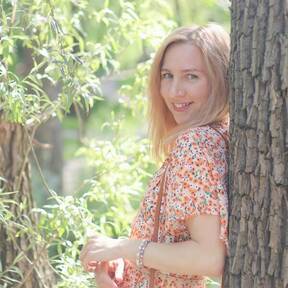 My name is Iryna, I live in Ukraine - Kyiv, I work as a private guide in Kyiv, also I organize tours in other places in Ukraine. I love my job, it's my hobby and my inspiration, and I love my city, it's full of life and energy! I enjoy travel very much. I think that trip even to the neighboring street can be exciting)) during quarantine and lockdown, I realized it)) in any place is possible to find something special!
My interests:
My big hobby is photography, I can take pictures hours and hours)) I love nature very much it's one of the biggest inspiration, when I have tourists in Kyiv I trying always to show also countryside, I think it's very important!
For me, travel is:
Travel is inspiration, new energy, life, new emotions, the best antidepressant)), one of the best education, because by traveling we study so many new things, new cultures...
I have been in:
Almost all countries in Europe, in Bali, Dominican Republic and other places...
I currently live in:
Kyiv
My dream destination:
My dream is to see whales and animals in the wild life...so it's Africa and maybe Iceland, Antarktica...
I want to learn about:
Every day we learn something...but maybe I want to learn how to be a driver and get driver license, because I don't have it))
My Article(s):
What can be interesting for you? how can I help you?
3 extraordinary experiences in my life:
a very spontaneous trip to the other end of the earth, paragliding, I ate bees))
3 items in my bucketlist:
atmosphere, beautiful architecture, nature
Random fun fact about me:
emotional, love sweet, love to dream))
My favourite country:
I have not visited all countries, for now it's Switzerland
Most interesting continent for me:
Americas
I cannot travel without :
I cannot travel without camera or phone, because I love to take pictures, some videos, when I see something beautifull, I want to take pictures and share this with other people...
What I like least about travel:
sometimes I have a heavy suitcases))
The best travel advice I received:
to learn how to use new technologies, online service, download online maps, guides ....
The worst travel advice I received:
I don't have that
I miss … the most when I travel:
I enjoy the moment...but if I travel somewhere far for a long time with different food, I miss my usual food...
If I could time travel and come back, I would go to … in year … to ...:
I would like to travel and return to those times when ladies wore beautiful magnificent dresses, ride horses and visiting balls ...
I would like to be … (animal) to travel better:
maybe a bird... to fly
My favourite food in my travels:
I love exotic fruits...
If my travels become a movie, it would be:
romantic
Travel solo or with someone?:
with someone
Backpack or trolley suitcase?:
suitcase
In plane, window or aisle seat?:
window
10 cities or 3 cities to visit in 2 weeks?:
10
Plane, train, bus, boat, car, motorbike or bicycle?:
car
5 days without internet and phone or 5 days without shower? :
without internet and phone
1 year home quarantine without international travel restrictions afterwards or no quarantine and no international travel for the rest of your life?:
1 year quarantine
Weird local food in a local restaurant or well-known dish in a popular spot :
well-known dish
20 million Euros / USD with lifetime international travel restrictions or 20 thousand with no travel restrictions? :
20 thousand
One way free travel to Mars. Would you go? :
Yes
Martians visit your hometown. What would you do? :
Showaround my city)) make photoset for them))
Life on earth will finish in 6 months. Enjoy last moments locally with family and friends or travel the world one last time:
travel the world
My SuperPower:
I will not tell))
No followed people