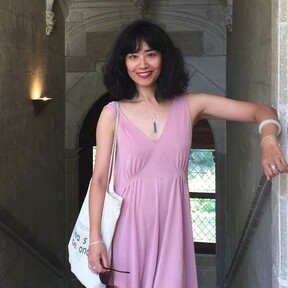 Hello I am Nikki Wang. I am Chinese-French grew up in an international environment and now living in Paris. While always working in Finance and travelling around the world for my job and my own thirst of discovery , I have been to 35 countries already and the number is still growing. I was also a freelance contributor to lifestyle media's about art, design and fashion. These various experiences lead me to the most privileged happenings in the City of Light and nurtured my strong desire to share my secret find of Paris and exchange with rest of the world.
I lived in all the hippest neighborhood in Paris, le Marais, Canal st martin, Parc Monceau and Belleville, with the time I accumulated good knowledge and network of artists, galleries, designers, food shops, concept stores, cocktail bars and other off-the-beaten-track address. I love Paris as a local but also as a tourist, I have a strong passion to find the best-kept-secret and share my personal addresses to the ones who are curious to discover the hidden gems and sensitive to culture and human contacts. 
In the summer of 2018, I quit my office job and created an cultural tourism agency in Paris with my boyfriend.  We created our own walking tours, daytrips, weekend discoveries and any tailor-made cultural voyages. All the trips we design show only authenticity and human value which we believe is the most essential element of travel.
My interests:
travel of course, and also art, history, design, reading and animals
For me, travel is:
to see, to hear, to feel, to understand and to learn
I have lived in:
Beijing, China
I have been in:
35 countries ( too long to list all of them)
I currently live in:
Paris, France
My dream destination:
Kenya
3 extraordinary experiences in my life:
I quit China for France, quit finance for travel, then quit a conformable corporate life to become a happy entrepreneur
My favourite country:
Greece
Most interesting continent for me:
Africa
I cannot travel without :
my camera
What I like least about travel:
Going to airport and taking a flight
The best travel advice I received:
I never received any advice, I am a self-taught :-)
My favourite food in my travels:
Thai food !
Backpack or trolley suitcase?:
suitcase
In plane, window or aisle seat?:
window
Travel in summer or winter? :
summer
Mountain or beach?:
mountain
10 cities or 3 cities to visit in 2 weeks?:
3
Plane, train, bus, boat, car, motorbike or bicycle?:
train
5 days without internet and phone or 5 days without shower? :
without internet and phone
1 year home quarantine without international travel restrictions afterwards or no quarantine and no international travel for the rest of your life?:
1 year quarantine
Weird local food in a local restaurant or well-known dish in a popular spot :
weird local food
One way free travel to Mars. Would you go? :
Yes
Martians visit your hometown. What would you do? :
PARIS
Life on earth will finish in 6 months. Enjoy last moments locally with family and friends or travel the world one last time:
travel the world
My SuperPower:
I can smell where the good things are when I travel to a new city
No followed people