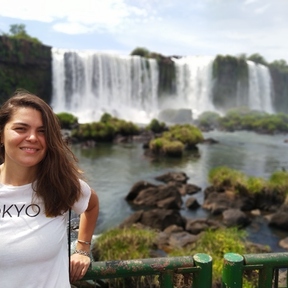 Hi!
I'm a Uruguayan linguist and traveller. I'm interested in languages, books, running and different lifestyles.
I'm currently living in Argentina, but I'm always planning my next destination and my next book.
My interests:
Travelling, Languages, Argumentation, Education technologies, Politics, Coffee & Tea, Running
For me, travel is:
A change of pace
I have lived in:
Uruguay, Australia, Argentina
I have been in:
Argentina, Australia, Azerbaijan, Belize, Bolivia, Brazil, Chile, China, Colombia, Costa Rica, Ecuador, Estonia, Finland, Germany, Guatemala, Hungary, Indonesia, Italy, Jamaica, Malaysia, Mexico, Netherlands, Nicaragua, Panama, Paraguay, Peru, Philippines, Portugal, Singapore, Spain, Sweden, Thailand, Turkey, United Kingdom, United States, Uruguay, Vatican City
I currently live in:
Buenos Aires, Argentina
My dream destination:
Iran and Samoa
I want to learn about:
Different lifestyles
3 extraordinary experiences in my life:
Being rescued from Machu Picchu by helicopter, tea shopping in China, boat partying in Sydney Harbour
3 items in my bucketlist:
Running a marathon in NYC or Berlin, taking a course in Europe, exploring Africa
Random fun fact about me:
Glasses without coasters make me nervous
My favourite country:
Uruguay
Most interesting continent for me:
Asia
I cannot travel without :
A book
What I like least about travel:
Having to arrive so early to airports
The best travel advice I received:
Go with the flow
The worst travel advice I received:
It's the best tour ever
I miss … the most when I travel:
My family and friends
If I could time travel and come back, I would go to … in year … to ...:
Northern India in 1968 to spend time with The Beatles
I would like to be … (animal) to travel better:
Bird (?)
My favourite food in my travels:
Street food
If my travels become a movie, it would be:
action
Travel solo or with someone?:
with someone
Backpack or trolley suitcase?:
backpack
In plane, window or aisle seat?:
window
Travel in summer or winter? :
summer
Mountain or beach?:
mountain
10 cities or 3 cities to visit in 2 weeks?:
3
Plane, train, bus, boat, car, motorbike or bicycle?:
train
5 days without internet and phone or 5 days without shower? :
without internet and phone
No sex for 6 months or no travel for 6 months?:
no travel
1 year home quarantine without international travel restrictions afterwards or no quarantine and no international travel for the rest of your life?:
1 year quarantine
Weird local food in a local restaurant or well-known dish in a popular spot :
weird local food
20 million Euros / USD with lifetime international travel restrictions or 20 thousand with no travel restrictions? :
20 thousand
One way free travel to Mars. Would you go? :
No
Martians visit your hometown. What would you do? :
Share some Uruguayan "mate" with them.
Life on earth will finish in 6 months. Enjoy last moments locally with family and friends or travel the world one last time:
enjoy locally
No followed people