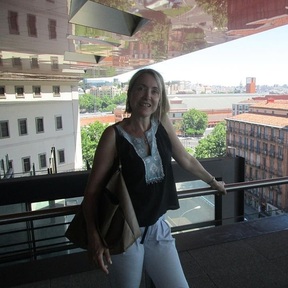 I'm a Journalist used to write travel articles and, from 10 years ago, providing advise and tours in Spain, mainly in Madrid and surrounds but not only.
My interests:
Travel, meeting different kind of people, museums, food.. living!
For me, travel is:
Knowing other people and culture differences. Enjoying diversity
I have lived in:
Spain and Malaysia
I have been in:
Asia, Europa, Middle East and a few of US and in Africa just Marrakesh and Tanger
I currently live in:
Madrid, Spain
My dream destination:
Go deeper into US and Asia. Saint Petersburg sounds good 4 me too :)
I want to learn about:
Can't say in words as knowledge world is huge
My Article(s):
I wrote about Cruises, food, hotels...a Bangkok guide...my tour is 3 hours walking by the best of Madrid.
3 extraordinary experiences in my life:
Professionnel Basketball player. Radio Journalist. Meeting people all world around and after named friends
3 items in my bucketlist:
Writing travel articles again. More clients/friends. Exploring deeply US and Asia
Random fun fact about me:
I was the only in my family who didn't like walk :))
My favourite country:
Spain :)
Most interesting continent for me:
Europe
I cannot travel without :
Teeth brush
What I like least about travel:
Sitting one day in plains...
The best travel advice I received:
Travel began once close your home door
The worst travel advice I received:
None
I miss … the most when I travel:
Not the jamón
If I could time travel and come back, I would go to … in year … to ...:
Paris in 1920
I would like to be … (animal) to travel better:
The dove I'm
My favourite food in my travels:
Mineral water.
If my travels become a movie, it would be:
comedy
Backpack or trolley suitcase?:
suitcase
In plane, window or aisle seat?:
aisle
Travel in summer or winter? :
winter
Mountain or beach?:
beach
10 cities or 3 cities to visit in 2 weeks?:
10
Plane, train, bus, boat, car, motorbike or bicycle?:
plane
5 days without internet and phone or 5 days without shower? :
without internet and phone
No sex for 6 months or no travel for 6 months?:
no sex
1 year home quarantine without international travel restrictions afterwards or no quarantine and no international travel for the rest of your life?:
1 year quarantine
Weird local food in a local restaurant or well-known dish in a popular spot :
weird local food
20 million Euros / USD with lifetime international travel restrictions or 20 thousand with no travel restrictions? :
20 thousand
One way free travel to Mars. Would you go? :
No
Martians visit your hometown. What would you do? :
My normal tour. No matters where u come from u may love it!
Life on earth will finish in 6 months. Enjoy last moments locally with family and friends or travel the world one last time:
enjoy locally
No followed people