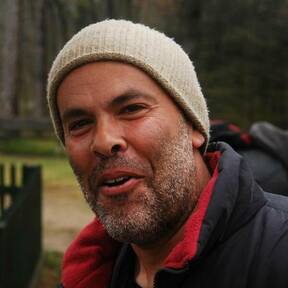 I don't deal well with stress, noise and crowds. From time to time I need to regain my own space for a couple of hours which is not usually a problem as I always find a way to get it peacefully.
I traveled for the first time when I was 39, and since then I became addicted. I don't have an accurate count of the countries I travelled through, but should be something around one hundred.
My past? Born and grew in a middle class neighborhood in Lisbon, Portugal. Studied History, worked in a bookstore, as a security officer. The I joined the Navy. Took a masters in National Defense, left the Navy and started doing websites. Moved to Southern Portugal. Now I am a travel writer and blogger and I own a few rental properties and a guesthouse.
My interests:
Traveling, reading, wargaming & miniatures collecting, history, hiking, football
For me, travel is:
Discovering the way other people live
I have lived in:
Prague, Lisbon
I have been in:
Albania, Algeria, Andorra, Argentina, Armenia, Austria, Azerbaijan, Belarus, Belgium, Belize, Bolivia, Bosnia and Herzegovina, Brunei Darussalam, Bulgaria, Cabo Verde, Cambodia, Chile, China, Colombia, Costa Rica, Croatia, Cuba, Cyprus, Czech Republic, Denmark, Ecuador, El Salvador, Estonia, Ethiopia, Finland, France, Gambia, Georgia, Germany, Greece, Guatemala, Guinea-Bissau, Honduras, Hong Kong, Hungary, Iceland, India, Indonesia, Iran, Ireland, Italy, Japan, Jordan, Kosovo, Laos, Latvia, Lithuania, Luxembourg, Macao, Macedonia, Malaysia, Malta, Moldova, Montenegro, Morocco, Myanmar, Netherlands, Nicaragua, North Korea, Norway, Oman, Panama, Paraguay, Peru, Philippines, Poland, Portugal, Romania, Sao Tome and Principe, Senegal, Serbia, Singapore, Slovakia, Slovenia, South Korea, Spain, Sri Lanka, Sweden, Switzerland, Syrian Arab Republic, Taiwan, Thailand, Timor-Leste (East Timor), Turkey, Ukraine, United Arab Emirates, United Kingdom, Uzbekistan, Vatican City State, Vietnam
I currently live in:
Faro
My dream destination:
Any place culturally very different from mine where I can speak the language and talk with everybody.
I want to learn about:
I am done learning, my memory is gone
3 extraordinary experiences in my life:
My first kiss; all the times I barely escaped death; living in Prague
3 items in my bucketlist:
Turkmenistan, Yemen, Bhutan
Random fun fact about me:
When I eat something I like a lot, I feel the need of walk. In circles if I am indoors. And that must be related to my habit, as a baby, to tap with my feet when I was sucking milk.
My favourite country:
Colombia
Most interesting continent for me:
Americas
I cannot travel without :
A device allowing me to take pics
What I like least about travel:
Lack of my usual diet
The best travel advice I received:
Can't recall any
The worst travel advice I received:
Can't recall any either
I miss … the most when I travel:
My usual diet back home.
If I could time travel and come back, I would go to … in year … to ...:
Angola in the 60's
I would like to be … (animal) to travel better:
a bird
My favourite food in my travels:
Bulgarian food!
If my travels become a movie, it would be:
action
Travel solo or with someone?:
solo
Backpack or trolley suitcase?:
backpack
In plane, window or aisle seat?:
window
Travel in summer or winter? :
winter
Mountain or beach?:
mountain
10 cities or 3 cities to visit in 2 weeks?:
3
Plane, train, bus, boat, car, motorbike or bicycle?:
train
5 days without internet and phone or 5 days without shower? :
without shower
No sex for 6 months or no travel for 6 months?:
no sex
1 year home quarantine without international travel restrictions afterwards or no quarantine and no international travel for the rest of your life?:
1 year quarantine
Weird local food in a local restaurant or well-known dish in a popular spot :
well-known dish
20 million Euros / USD with lifetime international travel restrictions or 20 thousand with no travel restrictions? :
20 thousand
One way free travel to Mars. Would you go? :
Yes
Martians visit your hometown. What would you do? :
Depends on what they would do
Life on earth will finish in 6 months. Enjoy last moments locally with family and friends or travel the world one last time:
enjoy locally
No followed people