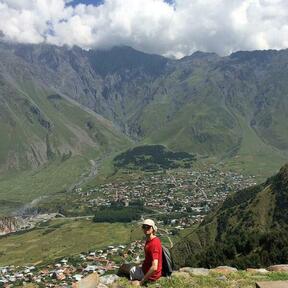 I am a medical doctor, specialized in internal medicine, endocrinology and metabolism.
After graduating high school in Turkey, I studied medicine in the United States. I completed my specialty trainings in internal medicine and endocrinology in New York, USA. I am board certified in both specialties.
Currently, I live in Turkey.
It has always been my passion to help people with their health problems in any way I can.
While face-to-face history taking and directly examining patients are the optimal ways of helping people, I have had significant experience in online and remote patient interactions. This has enabled me and patients around the world to interact in a way that is as helpful as helping them in person.
I also have significant travel experience, not only as a solo traveler, but also with a company of people. I have traveled a diverse range of places, from big metropols like Tokyo to the remote deserts in Namibia. During these trips, I have had the opportunity to help other people with their health issues, both in person, but also remotely, and sometimes with very limited conditions.
Traveling is certainly fun, and exhilirating. People travel for all kinds of reasons. Whatever the motivation is, and wherever you travel, it is important to take precautions regarding your health beforehand. During travel, even the healthiest people may find themselves in circumstances that they would not have otherwise imagined. Careful and thoughtful health planning beforehand can minimize these risks.
Through HelloExperto, I am offering services in two ways: health advice before and during your particular trip, and travel advice regarding Covid-19. Please see my listings for more details.
Mis intereses:
Traveling, playing the piano.
Para mi, viajar es:
getting away from the stresses of everyday life.
He vivido en:
Turkey, United States
He estado en:
Albania, Armenia, Azerbaijan, Bulgaria, France, Georgia, Germany, Greece, Iceland, Iran, Iraq, Italy, Japan, Jordan, Kuwait, Northern Macedonia, Mexico, Namibia, Norway, Qatar, Russia, Spain, Sweden, Tanzania, United Kingdom, United States
Actualmente vivo en:
Turkey
Mi destino soñado:
Siberia and central Asia
Quiero aprender sobre:
Travelers' health concerns.
3 experiencias extraordinarias en mi vida:
Seeing lions in Ngorongoro, Tanzania, plane trip over the Namib desert, treating an extreme case of thyroid disease.
3 artículos en mi lista de deseos:
To travel to Krygyzstan, to try insects as food, to witness the stem cell therapy and cure of type 1 diabetes.
Dato curioso sobre mí:
I have a very good memory, especially of the specific dates of random events in my life.
El continente mas interesante para mi:
Asia
No puedo viajar sin:
a first aid kit.
Lo que menos me gusta de viajar:
long flights, which make the low cabin pressure and the dehydration even more uncomfortable
El mejor consejo de viaje que recibí:
was from a Russian tourguide, and he gave me the best advice regarding traveling around lake Baikal, Siberia
Si pudiera viajar en el tiempo y regresar, iría a ... en un año ... para ...:
I would go back to the year 2016, when I extensively traveled eastern Turkey.
Me gustaría ser ... (animal) para viajar mejor:
Goat (this way, I would be able to walk on rough landscapes), or hawk (because flying is awesome)
Mi comida favorita en mis viajes:
Local foods to the region
Si mis viajes se convierten en una película, sería:
acción
¿Viaja solo o con alguien?:
solo
¿Mochila o maleta trolley?:
mochila
¿En avión, asiento de ventana o pasillo?:
ventana
¿Viajar en verano o en invierno?:
verano
¿Montaña o playa?:
montaña
¿10 ciudades o 3 ciudades para visitar en 2 semanas?:
3
¿Avión, tren, autobús, barco, coche, moto o bicicleta?:
coche
¿5 días sin internet y teléfono o 5 días sin ducha?:
sin ducha
¿Sin sexo durante 6 meses o sin viajar durante 6 meses?:
sin sexo
¿1 año de cuarentena domiciliaria sin restricciones de viajes internacionales después o sin cuarentena y sin viajes internacionales por el resto de tu vida?:
1 año de cuarentena
Comida local extraña en un restaurante local o plato conocido en un lugar popular:
comida local extraña
¿20 millones de euros / USD con restricciones de viaje internacionales por vida o 20 mil sin restricciones de viaje?:
20 mil
Viaje gratis de ida a Marte. ¿Irías?:
No
Los Marcianos visitan tu ciudad. ¿Qué harías?:
I would ask them about life in Mars.
La vida en la tierra terminará en 6 meses. Disfrute de los últimos momentos a nivel local con familiares y amigos o viaje por el mundo por última vez:
viaje por el mundo
No sigue a ningún usuario