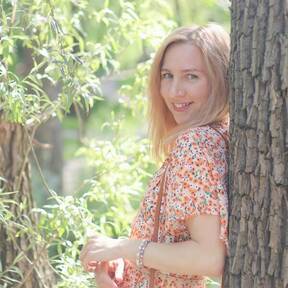 My name is Iryna, I live in Ukraine - Kyiv, I work as a private guide in Kyiv, also I organize tours in other places in Ukraine. I love my job, it's my hobby and my inspiration, and I love my city, it's full of life and energy! I enjoy travel very much. I think that trip even to the neighboring street can be exciting)) during quarantine and lockdown, I realized it)) in any place is possible to find something special!
Mis intereses:
My big hobby is photography, I can take pictures hours and hours)) I love nature very much it's one of the biggest inspiration, when I have tourists in Kyiv I trying always to show also countryside, I think it's very important!
Para mi, viajar es:
Travel is inspiration, new energy, life, new emotions, the best antidepressant)), one of the best education, because by traveling we study so many new things, new cultures...
He estado en:
Almost all countries in Europe, in Bali, Dominican Republic and other places...
Actualmente vivo en:
Kyiv
Mi destino soñado:
My dream is to see whales and animals in the wild life...so it's Africa and maybe Iceland, Antarktica...
Quiero aprender sobre:
Every day we learn something...but maybe I want to learn how to be a driver and get driver license, because I don't have it))
Mi(s) artículo(s):
What can be interesting for you? how can I help you?
3 experiencias extraordinarias en mi vida:
a very spontaneous trip to the other end of the earth, paragliding, I ate bees))
3 artículos en mi lista de deseos:
atmosphere, beautiful architecture, nature
Dato curioso sobre mí:
emotional, love sweet, love to dream))
Mi pais favorito:
I have not visited all countries, for now it's Switzerland
El continente mas interesante para mi:
Americas
No puedo viajar sin:
I cannot travel without camera or phone, because I love to take pictures, some videos, when I see something beautifull, I want to take pictures and share this with other people...
Lo que menos me gusta de viajar:
sometimes I have a heavy suitcases))
El mejor consejo de viaje que recibí:
to learn how to use new technologies, online service, download online maps, guides ....
El peor consejo de viaje que recibí:
I don't have that
Extraño ... más cuando viajo:
I enjoy the moment...but if I travel somewhere far for a long time with different food, I miss my usual food...
Si pudiera viajar en el tiempo y regresar, iría a ... en un año ... para ...:
I would like to travel and return to those times when ladies wore beautiful magnificent dresses, ride horses and visiting balls ...
Me gustaría ser ... (animal) para viajar mejor:
maybe a bird... to fly
Mi comida favorita en mis viajes:
I love exotic fruits...
Si mis viajes se convierten en una película, sería:
romántica
¿Viaja solo o con alguien?:
con alguien
¿Mochila o maleta trolley?:
maleta
¿En avión, asiento de ventana o pasillo?:
ventana
¿10 ciudades o 3 ciudades para visitar en 2 semanas?:
10
¿Avión, tren, autobús, barco, coche, moto o bicicleta?:
coche
¿5 días sin internet y teléfono o 5 días sin ducha?:
sin internet y teléfono
¿1 año de cuarentena domiciliaria sin restricciones de viajes internacionales después o sin cuarentena y sin viajes internacionales por el resto de tu vida?:
1 año de cuarentena
Comida local extraña en un restaurante local o plato conocido en un lugar popular:
plato conocido
¿20 millones de euros / USD con restricciones de viaje internacionales por vida o 20 mil sin restricciones de viaje?:
20 mil
Viaje gratis de ida a Marte. ¿Irías?:
Si
Los Marcianos visitan tu ciudad. ¿Qué harías?:
Showaround my city)) make photoset for them))
La vida en la tierra terminará en 6 meses. Disfrute de los últimos momentos a nivel local con familiares y amigos o viaje por el mundo por última vez:
viaje por el mundo
Mi SuperPower:
I will not tell))
No sigue a ningún usuario