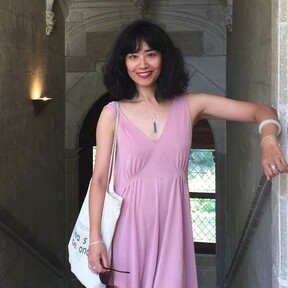 Hello I am Nikki Wang. I am Chinese-French grew up in an international environment and now living in Paris. While always working in Finance and travelling around the world for my job and my own thirst of discovery , I have been to 35 countries already and the number is still growing. I was also a freelance contributor to lifestyle media's about art, design and fashion. These various experiences lead me to the most privileged happenings in the City of Light and nurtured my strong desire to share my secret find of Paris and exchange with rest of the world.
I lived in all the hippest neighborhood in Paris, le Marais, Canal st martin, Parc Monceau and Belleville, with the time I accumulated good knowledge and network of artists, galleries, designers, food shops, concept stores, cocktail bars and other off-the-beaten-track address. I love Paris as a local but also as a tourist, I have a strong passion to find the best-kept-secret and share my personal addresses to the ones who are curious to discover the hidden gems and sensitive to culture and human contacts. 
In the summer of 2018, I quit my office job and created an cultural tourism agency in Paris with my boyfriend.  We created our own walking tours, daytrips, weekend discoveries and any tailor-made cultural voyages. All the trips we design show only authenticity and human value which we believe is the most essential element of travel.
Mis intereses:
travel of course, and also art, history, design, reading and animals
Para mi, viajar es:
to see, to hear, to feel, to understand and to learn
He vivido en:
Beijing, China
He estado en:
35 countries ( too long to list all of them)
Actualmente vivo en:
Paris, France
3 experiencias extraordinarias en mi vida:
I quit China for France, quit finance for travel, then quit a conformable corporate life to become a happy entrepreneur
El continente mas interesante para mi:
Africa
No puedo viajar sin:
my camera
Lo que menos me gusta de viajar:
Going to airport and taking a flight
El mejor consejo de viaje que recibí:
I never received any advice, I am a self-taught :-)
Mi comida favorita en mis viajes:
Thai food !
¿Mochila o maleta trolley?:
maleta
¿En avión, asiento de ventana o pasillo?:
ventana
¿Viajar en verano o en invierno?:
verano
¿Montaña o playa?:
montaña
¿10 ciudades o 3 ciudades para visitar en 2 semanas?:
3
¿Avión, tren, autobús, barco, coche, moto o bicicleta?:
tren
¿5 días sin internet y teléfono o 5 días sin ducha?:
sin internet y teléfono
¿1 año de cuarentena domiciliaria sin restricciones de viajes internacionales después o sin cuarentena y sin viajes internacionales por el resto de tu vida?:
1 año de cuarentena
Comida local extraña en un restaurante local o plato conocido en un lugar popular:
comida local extraña
Viaje gratis de ida a Marte. ¿Irías?:
Si
Los Marcianos visitan tu ciudad. ¿Qué harías?:
PARIS
La vida en la tierra terminará en 6 meses. Disfrute de los últimos momentos a nivel local con familiares y amigos o viaje por el mundo por última vez:
viaje por el mundo
Mi SuperPower:
I can smell where the good things are when I travel to a new city
No sigue a ningún usuario