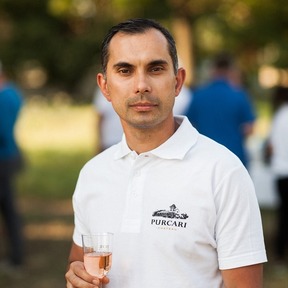 Travel professional from Romania, resident for six years in the Republic of Moldova.
Member of GBTA. Expert in MICE.
Former Senior Brand Manager - placeholder Director of Marketing - of Purcari Wineries Group.

Managing partner of Safe Travel Agency.
Mis intereses:
wine tours, business travel, meetings and events, organic food, car rental, sports travel, food experiences
Para mi, viajar es:
a passion and a living.
He vivido en:
Romania, Moldova
He estado en:
Ukraine, Romania, Moldova, Turkey, Egypt, Azerbaidjan, Russian Federation, Luxembourg, Bulgaria, Serbia, UK, France, Germany, Italy, Spain, Austria, Greece
Actualmente vivo en:
Moldova
Mi destino soñado:
Tierra del Fuego
Quiero aprender sobre:
Business Travel
¿20 millones de euros / USD con restricciones de viaje internacionales por vida o 20 mil sin restricciones de viaje?:
20 mil
Los Marcianos visitan tu ciudad. ¿Qué harías?:
Get them drunk. We have wine. I live in Moldova.
La vida en la tierra terminará en 6 meses. Disfrute de los últimos momentos a nivel local con familiares y amigos o viaje por el mundo por última vez:
disfrute a nivel local
No sigue a ningún usuario