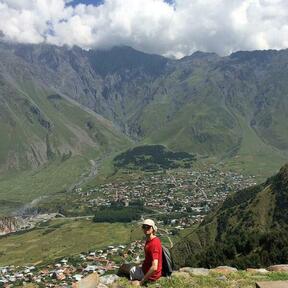 I am a medical doctor, specialized in internal medicine, endocrinology and metabolism.
After graduating high school in Turkey, I studied medicine in the United States. I completed my specialty trainings in internal medicine and endocrinology in New York, USA. I am board certified in both specialties.
Currently, I live in Turkey.
It has always been my passion to help people with their health problems in any way I can.
While face-to-face history taking and directly examining patients are the optimal ways of helping people, I have had significant experience in online and remote patient interactions. This has enabled me and patients around the world to interact in a way that is as helpful as helping them in person.
I also have significant travel experience, not only as a solo traveler, but also with a company of people. I have traveled a diverse range of places, from big metropols like Tokyo to the remote deserts in Namibia. During these trips, I have had the opportunity to help other people with their health issues, both in person, but also remotely, and sometimes with very limited conditions.
Traveling is certainly fun, and exhilirating. People travel for all kinds of reasons. Whatever the motivation is, and wherever you travel, it is important to take precautions regarding your health beforehand. During travel, even the healthiest people may find themselves in circumstances that they would not have otherwise imagined. Careful and thoughtful health planning beforehand can minimize these risks.
Through HelloExperto, I am offering services in two ways: health advice before and during your particular trip, and travel advice regarding Covid-19. Please see my listings for more details.
İlgi alanlarım:
Traveling, playing the piano.
Benim için seyahat:
getting away from the stresses of everyday life.
Yaşadığım ülkeler:
Turkey, United States
Bulunduğum ülkeler:
Albania, Armenia, Azerbaijan, Bulgaria, France, Georgia, Germany, Greece, Iceland, Iran, Iraq, Italy, Japan, Jordan, Kuwait, Northern Macedonia, Mexico, Namibia, Norway, Qatar, Russia, Spain, Sweden, Tanzania, United Kingdom, United States
Şu anda yaşadığım yer:
Turkey
Hayalimdeki destinasyon:
Siberia and central Asia
Öğrenmek istediğim konu:
Travelers' health concerns.
Hayatımdaki 3 sıradışı tecrübe:
Seeing lions in Ngorongoro, Tanzania, plane trip over the Namib desert, treating an extreme case of thyroid disease.
Yapılacaklar listemdeki 3 madde:
To travel to Krygyzstan, to try insects as food, to witness the stem cell therapy and cure of type 1 diabetes.
Hakkımda rastgele bir eğlenceli gerçek:
I have a very good memory, especially of the specific dates of random events in my life.
Benim için en ilginç kıta:
Asia
Yanımda olmadan seyahat edemeyeceğim şey:
a first aid kit.
Seyahat ile ilgili en sevmediğim şey:
long flights, which make the low cabin pressure and the dehydration even more uncomfortable
Aldığım en iyi seyahat önerisi:
was from a Russian tourguide, and he gave me the best advice regarding traveling around lake Baikal, Siberia
Zamanda yolculuk yapıp geri dönebilseydim, … a/e ... yılına ... için giderdim:
I would go back to the year 2016, when I extensively traveled eastern Turkey.
Daha iyi seyahat etmek için… (hayvan) olmak isterdim:
Goat (this way, I would be able to walk on rough landscapes), or hawk (because flying is awesome)
Seyahatlerimde en sevdiğim yemek:
Local foods to the region
Seyahatlerim bir film olsaydı, ... olurdu:
aksiyon
Yalnız mı birisiyle seyahat mi?:
yaknız
Sırt çantası mı, çekçek bavul mi?:
sırt çantası
Uçakta, pencere yanı mı, koridor mu?:
pencere
Yazın seyahat mi, kışın mı?:
yaz
2 haftada 10 şehir ziyareti mi, 3 şehir ziyareti mi?:
3
Uçak, tren, otobüs, tekne, araba, motosiklet veya bisiklet?:
araba
5 gün internet ve telefon olmadan mı, 5 gün duşsuz mu?:
duşsuz
6 ay boyunca sekssiz mi, 6 ay boyunca seyahatsiz mi?:
sekssiz
Sonrasında uluslararası seyahat kısıtlamaları olmadan 1 yıllık evde karantina mı yoksa karantinasız ama hayatının geri kalanında uluslararası seyahat yok mu?:
1 yıl karantina
Yerel bir restoranda tuhaf yerel yemekler veya popüler bir yerde iyi bilinen yemek mi:
tuhaf yerel yemekler
Hayat boyu uluslararası seyahat kısıtlaması ile birlikte 20 milyon Euro / USD mı, seyahat kısıtlaması olmadan 20 bin mi?:
20 bin
Mars'a tek yönlü ücretsiz seyahat. Gider miydin?:
Hayır
Marslılar şehrini ziyarete geldi. Ne yapardın?:
I would ask them about life in Mars.
Dünyadaki yaşam 6 ay sonra bitecek. Ailen ve arkadaşlarınla yerel olarak son anların tadını çıkarmak mı, son bir kez seyahat mi:
seyahat
Takip ettiği kişi yok